Virgin Silk Suture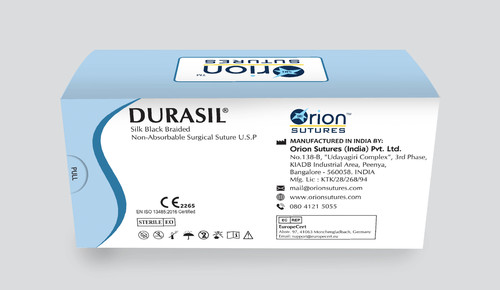 Virgin Silk Suture
Price And Quantity
Dozen/Dozens

1300.00 - 4000.00 INR
Product Description
VIRGIN SILK - DURASIL / ORISILK suture is a non absorbable, sterile, surgical Made from filaments of silk fibre which are held together by natural gum secreted by the silk worm.Durasil is indicated for use in general soft tissue approximation and/or ligation, including use in Cardiovascular,ophthalmic and neurological procedures.
Type : Twisted multifilament.
Material : Twisted fibres from the cocoon of the silkworm
Color : Blue
Tissue reaction : Moderate
Absorption : Silk suture elicits an initial inflammatory reaction in tissues, which is followed by Gradual
encapsulation of the suture by fibrous connective tissues.
Tensile Strength : Excellent tensile strength, Excellent knot tying, Minimum tissue reaction
USP Range : 10-0 to 8-0
Sterilization : EO (Ethylene Oxide)
Needle Type : Round bodied, cutting edge, taper point, straight, blunt point
Packing : In aluminium foil packages/ Medical Grade ETO Pouches with or without needle
Characteristics Of Virgin Silk Suture:
Unsurpassed tensile strength,non absorbable

Resistance to repeated bending

Synthetic

Braided structure

Coated multifilament

Hermetically sealed packing

Benefits Of Virgin Silk Suture:
Excellent and permanent tissue support

Use in cardiovascular surgery (heart prosthesis)

Minimal tissue reaction

Excellent handling properties, High flexibility,High tensile strength. Excellent knot security

Soft passage through the tissues with minimal sawing,tissue drag and trauma. Good knot tie down / adjustability. Reduced capillary action

Guaranteed seal and product sterility

Indications Of Virgin Silk Suture:
General soft tissue closing and/or ligation especially in General surgery, Skin closure, Ophthalmic surgery, Oral surgery, Gastrointestinal surgery, Gynaecology, Obstetrics.