Polyglactin 910 Suture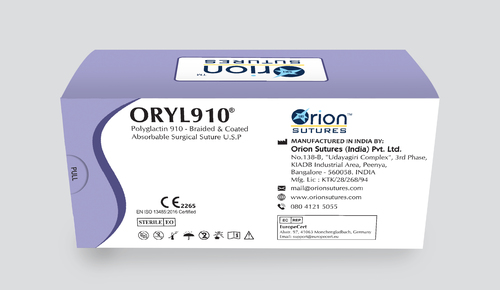 Polyglactin 910 Suture
Price And Quantity
Dozen/Dozens

1500.00 - 5000.00 INR
Product Description
ORYL910 (Polyglactin 910) suture is most widely used braided and coated synthetic absorbable suture in the world. On account of its superior properties, this suture has replaced catgut sutures in most applications. Polyglactin 910 suture is a synthetic absorbable sterile surgical suture composed of a copolymer made from 90% Glycolide and 10% L-lactide.
Type : Braided and coated multifilament
Material : Polyglycolide (90%) - co-lactide (10%) synthetic absorbable braided surgical suture
Color : Violet
Tissue reaction : Minimal
Absorption : The hydrolytic action by which the material is broken down results in total absorption in approximately 42 days.
Approximately 50% of tensile strength remains after 7 days.
Tensile Strength : 75% tensile strength is retained for 14 days and 50% till 21 days.
USP Range : 6/0 - 2
Sterilization : EO (Ethylene Oxide)
Needle Type : Round bodied, cutting edge, taper point, straight, blunt point
Packing : In aluminium foil packages with or without needle
Characteristics Of Polyglactin 910 Suture:

High tensile strength

Synthetic

Breaks down by hydrolysis

Braided structure

Coated multifilament

Hermetically sealed packing

Benefits Of Polyglactin 910 Suture:
Excellent tissue support

Minimal tissue reaction

Predictable absorption rate

Excellent handling properties, High flexibility,

High tensile strength, Excellent knot security

Soft passage through the tissues with minimal sawing, tissue drag and trauma. Good knot tie down / adjustability Reduced capillary action

Guaranteed seal and product sterility
Indications Of Polyglactin 910 Suture:
Superficial soft tissue closing of skin and mucosa only.

Especially Plastic surgery ,Obstetrics (Episiotomy repair), Gynecology, Urology (Circumcision)

Ophthalmic surgery (Conjunctiva), Pediatric surgery.
Contraindications Of Polyglactin 910 Suture:
Cardiovascular surgery

Neurosurgery

Ligation

When wound support for more than 7 days is required
NEEDLE LENGTH

NEEDLE DESCRIPTION

SUTURE LENGTH

SUTURE SIZE IN USP

6-0 (0.7)

5-0 (1)

4-0 (1.5)

3-0 (2)

8 mm Double Needle

1/4 Circle micro point spatulated

45 cm

OS 2670










12 mm

3/8 Circle Reverse Cutting

45 cm




OS 2493

OS 2494

OS 2495

16 mm

1/2 circle round body

45 cm




OS 2303







16 mm

5/8 circle cutting

45 cm







OS 2465




16 mm

3/8 Circle Cutting Prime

45 cm




OS 2442

OS 2443

OS 2471
NEEDLE LENGTH

NEEDLE DESCRIPTION

SUTURE LENGTH

SUTURE SIZE IN USP

4-0 (1.5)

3-0 (2)

2-0 (3)

1-0 (3.5)

1 (4)

17 mm

1/2 circle taper cutting

45 cm




OS 2515










20 mm

1/2 Circle Round Bodied

70 cm

OS 2304

OS 2437










22 mm

3/8 Circle Cutting

45 cm




OS 2401










22 mm

1/2 Circle Cutting

90 cm




OS 2472










23 mm

1/2 Circle Reverse Cutting (heavy)

35 cm













OS 2826

27 mm

5/8 Circle round bodied

115 cm










OS 2602




30 mm

1/2 Circle Round Bodied

70 cm







OS 2341

OS 2342




90 cm







OS 2317

OS 2338




30 mm Heavy

1/2 Circle Taper Cutting

45 cm













OS 2511

36 mm

1/2 Circle Taper Cutting

90 cm




OS 2516









NEEDLE LENGTH

NEEDLE DESCRIPTION

SUTURE LENGTH

SUTURE SIZE IN USP

3-0 (2)

2-0 (3)

1-0 (3.5)

1 (4)

36 mm

1/2 circle reverse cutting (OS)

90 cm




OS 2534







40 mm

1/2 circle round bodied

70 cm

OS 2345










90 cm




OS 2346







115 cm




OS 2346+







40 mm Double Needle

1/2 circle round bodied and 1/2 circle taper cutting

140 cm




OS 2346A







40 mm Heavy

1/2 circle round bodied

45 cm







OS 2347S




70 cm







OS 2359




90 cm

OS 2357




OS 2347




115 cm







OS 2347+




40 mm Heavy Double Needle

1/2 circle taper cutting and 1/2 circle round bodied

140 cm







OS 2347DA




160 cm







OS 2160




180 cm







OS 2180




40 mm

1/2 circle reverse cutting

45 cm

OS 2382S










90 cm

OS 2382







OS 2351

40 mm

1/2 circle taper cutting

90 cm




OS 2518







40 mm OS

1/2 circle reverse cutting

90 cm







OS 2421




50 mm Heavy

1/2 circle round bodied

100 cm







OS 2488+



Trade Information
FOB EX WORKS BANGALORE

Cash on Delivery (COD), Cash Advance (CA), Cash in Advance (CID), Cheque, Telegraphic Transfer (T/T), Western Union
600000 Per Month

15-30 Days
Free samples available with shipping and taxes paid by the buyer

Box of 12 Sutures, Master Carton - 100 Dozen (100 Box of 12 Sutures)
All India

Eurpopean CE Certified by 3EC Slovakia, EN ISO 13485 : 2016, ISO 9001 : 2015 WHO GMP